&nbsp June 13-July 7, 1999
Goodbye!
Well, it's that time of year again. I'm going on vacation. (Yeah, I know, just as Austin Powers 2 comes out I check out.) I did get to see it friday and it's as good, if not better, than the original. It's a little too early to discuss it (since I don't want to ruin it for anyone) but I do have one little tip: stay for the credits, the entire credits. The box office was $20 million on friday, good enough for first place. Go see it and help Dr. Evil kick Darth What's-His-Name's "bum" for the rest of the summer. (Oh behave!)

I will also be gone from my other page (the link at the top) for the same period of time, obviously. For updates on Mike Myers and Austin Powers news, be sure to check in on Miketown's Buzz page by clicking the link to the left.
&nbsp June 10, 1999
Soundtrack Page Open
The soundtrack page is open now. Get to it through the link to the left. More will be added, like clips and possibly video.

---
Wallpaper

I have a new wallpaper for your desktop. I made it by scanning one of the photos from the soundtrack's liner notes. It shows Austin and Felicity on a red sofa, much like the photo in this week's Newsweek article. Click on thumbnail to see it. (800x600, 365KB)

---
Austin Powers Premiere

The official premieres at the Amphitheater in LA and in New York City drew heavy crowds, including the entire cast for the LA gathering. In NYC, Jerry Seinfeld, Jonathan Demme, Christian Slater, Naomi and Ashley Judd, and Tim Robbins had to switch theaters after the 100 degree heat made the first, unairconditioned, venue unbearable. Click on the photo to the right for a look at the cast. (Thanks Fran)
&nbsp June 5, 1999
Entertainment Weekly
The new Entertainment Weekly is available now with a foldout Austin/Dr. Evil cover. There is also an article online with an interview with Mike Myers. Click on the cover to the right to go to the article.

---
June 10 Screening
If you live in selected cities, you can see AP2 Thursday, June 10, by going to AOL Keyword: Austin Powers for tickets. If you don't live in these cities here are the other release dates:
USA - June 11, Australia - June 17, Singapore - June 24, Finland - July 2, UK - July 30, Brazil - July 30

---
Soundtrack
The soundtrack is available in stores now. It goes for about $13 and the limited edition version in the felt cast (which I bought) goes for around $26. The soundtrack section will be up soon.

---
A lot more to be added
I'll be adding much more to the site in the next two days. New products, posters, soundtrack, articles, and more...
&nbsp May 2, 1999
New Trailer! AHHHHHHHH!
Well, it's finally here in digital form. The good people at Loews who also digitized Trailer A have done it again (and beat the people at New Line). I'm (slowly) downloading it right now so I can't give you any details yet but I'm sure it's going to be great. Go check it out in the theater also.
---
New Poster
The new poster is out and should be turing up in theaters if it already hasn't. It features Austin is his red outfit and several shots of Felicity Shagwell.
&nbsp April 27, 1999
Entertainment Weekly Mini-Me Photo!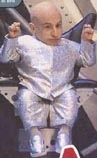 Here is the first photo of Mini-Me, actor Verne Troyer, from the April 30 edition of Entertainment Weekly. Mini-Me is Dr. Evil's clone that mimics everything Dr. Evil does, which is evident from the photo in EW. Click on the photo to the right to see the full page spread which also includes small pics of Mr. Wagner, Green, and Graham. I'm sorry that it is sideways but when I tried to turn it around the file size got way out of hand. Huh? Just save it and look at it or turn your head! Remember to check below for a movie clip from Austin Powers 2 with Mini-Me!
---
Mini-Me Time (Clip on The Daily Show)
Here you go. We're still waiting for that second trailer but until then I have a clip from AP2 to quench your thirst. Seth Green (Scott Evil) was on The Daily Show Monday and Jon Stewart showed a new clip- the only other clip to be released besides a very small segment on Access Hollywood. It shows Number 2 (Robert Wagner), Scott, Dr. Evil, and his new clone Mini-Me sitting in Dr. Evil's new lair. It's an update of the "shh!" scene from the first movie but with "zip it!" used instead. I made a clip of it in .avi format. If you have Windows you can play it. It's 16 seconds, 2.54 megs, and very low quality. I'M SORRY! It's the best I can do! But isn't it good enough?

&nbsp April 04, 1999
Products page now open!
Smashing baby! I posted the new page with info on all of the new products that will be coming out: action figures, trading cards, computer games. It's all good. Take a gander with the link to the left.
&nbsp April 1, 1999
Austin Preview on Entertainment Tonight
Tonight ET will look at this summer's movies including Austin Powers 2. Go to the new TV section to the left to see a small preview pic of the story. I'll see about making a clip of the story tomorrow.
UPDATE: No new footage. No clip. Sorry.
---
New Photos (including Dr. Evil)
New photos are circulating. Some are the old ones from Entertainment Weekly and USA Today and some are new. Go to the Photos section (link to the left) to see the new pics, including Dr. Evil's new "Liberace" outfit, from Cinescape.com.
---
Mr. Bigglesworth: Cat of the Year
According to a report in Wednesday's USA Today (see Article section to the left) Mr. Bigglesworth will be named Cats magazines's Cat of the Year. One of only 1300 sphinxes in the United States, Mel Gibskin (his real name) will grace the July cover hitting stands June 1.
&nbsp March 28, 1999
Welcome to the new page!
Smashing Baby! Welcome to The International House of Austin Powers. A new page that will be devoted exclusivly to the Austin Powers sequel from the creator of The Smashing Austin Powers Homepage. At this time the photo, article, info, poster, and trailer sections are open and in the future sections devoted to products and the soundtrack will be opened when those things become available. Don't forget that for the best original Austin Powers coverage visit The Smashing AP Page by clicking the link to the left.