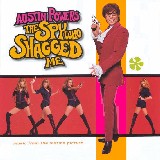 &nbsp &nbsp
Left is the cover of the regular version of the soundtrack. Right is the special velvet case version. Both contain the same liner notes. Click on either for the larger versions.
Beautiful Stranger - Madonna
My Generation - The Who
Draggin' the Line - R.E.M.
American Woman - Lenny Kravitz
Word Up - Melanie G (aka Scary Spice)
Just the Two of Us - Dr. Evil
Espionage - Green Day
Time of the Season - Big Blue Missile (w Scott Weiland)
Buggin' - The Flaming Lips
Alright - The Lucy Nation
I'll Never Fall In Love Again - Bacharach/Costello
Soul Bossa Nova (Dim's Space-A-Nova) - Quincy Jones and His Orchestra
Eric's Pathetic Grammer-Poor Review:
Well, if you haven't picked up the soundtrack yet, I'd recommend it. Madonna's Beautiful Stranger is a great song that surely gets Austin's mojo working. Mike also gives a great performance as Austin in the video and Mini-Me makes a special cameo. Green Day's instrumental Espionage is terrific and Dr. Evil's parody of Will Smith's Just the Two of Us is very entertaining. Mike's wife, Robin Ruzan, actually wrote the lyrics for the song. Mr. Burt Bacharach makes another terrific appearance in both the movie and on the soundtrack, this time with Elvis Costello. Other then the above mentioned songs, the rest of the album is no better than average. Actually, the only track that isn't shagadelic is Melanie G's Word Up. It's bad. Really bad.
As for the special limited edition packaging, I wouldn't buy it unless you're a huge fan or have the 26 bucks to burn. Don't get me wrong, it's nice, but nice costs twice as much.